This page is a mishmash - hodgepodge of information on Megacolon and the En spotting breeds. The page is semi-organized . It is meant for storage of information only.
---
Sections
---
This page is dedicated to Racer, Beau Binky, and Horatio Binky.

Racer is an English (Spot) breed of rabbit. Unfortunately he inherited two En genes. Here he is wanting pets @ an EBBR adoption event. On December 21st, 2013 my 3+ month petting buddy was adopted. I Hope he does really well with his new family.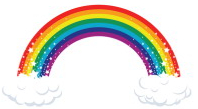 Racer passed away on June 19th, 2014. His adopter went away on a vacation leaving him to be watched. It is extremely critical that a MC rabbit be cared for by a rabbit savvy person that knows them best, as they will know what signs to look for with Megacolon. Rest in peace Racer.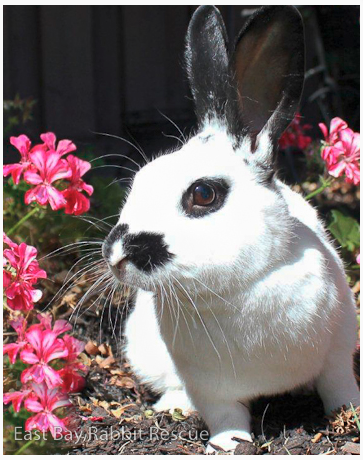 ---
---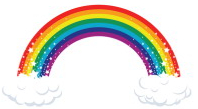 Beau Binky &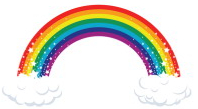 Horatio Binky When I put this page online and really started looking for Megacolon information I ran across the facebook Megacolon Bunnies group. When I joined, Clint Dinkums' (OP for group), rabbit Beau passed away a few months after this. Then Horatio got sick and passed, both were MC rabbits. Both did not pass from megacolon as she managed it for many, many years. Both passed away at almost exactly the same age. She is a execellent source of information on Megacolon, medicine, and many thigns dealing with rabbits. She has answered all of my questions and is always willing to help. Megacolon is difficult in that each rabbit is different and responds differently to treatment. Thanks Clint for all your help and answering all my questions! :)
---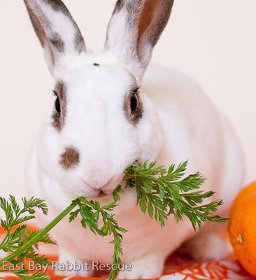 My new petting buddy. Clover is a Rex mix that has "pre" megacolon at the rescue I help at. She has been there for a number of months and they are trying to find her the right diet and medication mix. She reminds me a lot of Racer and is also very sweet.
        Below is the information I have gathered on Megacolon and other information that surrounds it. This page is loosely organized (mishmash mess.) All information & media is linked back to the orginal source. This is where I store and reference the information I have found. I hope it can help others.

Megacolon - The curse of the 33 spots
"A change in breeders' attitude and breeding practices is mandatory because neither the permanent elimination of animals not "fitting" a fancy standard nor the continuous production of defective genotypes is legal."
- Gerlitz S., Wessel G., Wieberneit D., & Wegner W. Please Rembember: "Each megacolon bunny has to be treated very much as an individual and it's a matter of trial and error to find the right balance for that bunny." - Clint Dinkums; OP for Megacolon Bunnies on Facebook "Megacolon is believed to be caused by an improper development or malfunction of the colon/cecum. Rabbits with this disorder have trouble extracting essential nutrients from food, may not produce cecotropes and frequently have trouble maintaining weight. It is suspected that there may be may be a number of different disorders that are lumped into this category because of similar symtpoms ; this would explain why treatments that help one individual may actually worsen the condition of the other."- Quote comes from a post on RabbitsOnline.net; referencing source When Your Rabbit Needs Special Care: Traditional and Alternative Healing Methods, Lucille C. Moore, Kathy Smith, Web.
Best source for online help, information and resources for MC are:
NOTES

Some vets do not belive that Megacolon is a real 'syndrome.' The Megacolon group on facebook has a list of vets that know about Megacolon.
PLEASE NOTE: Some of the information (text and pictures) on this page comes from breeders or medical research papers. This can include necropsy (autopsy) pictures. This may upset some.
This pages focuses on the English 'Spot' (as this is what Racer was), Checkered Giant, and other breeds with the En/En genes. If you find anything that is wrong, outdated or you know of updated information, on MC/CPS, that can help others please email me.
"Pre-Megacolon": Some vets may refer to a rabbit as pre-megacolon. They will have the 'correct' fur/coat phenotype (genetic characteristics you can see, i.e. limited/light color markings), oval poops, along with having minor GI issues. "Mechanical" Megacolon: Sometimes a rabbit can get the same symptoms as a genetic En/En rabbit but through "mechanical" means such as spinal fracture or other traumatic events. An example would be the loss of mobility in the hind legs that could causes MC like symptoms. Some rabbits can also "acquire" the same problems which basically is as a result of surgery interfering with the nerves that regulate the gut. it cant be helped sometimes and is a post op complication "Acquired" Megacolon: Some rabbits can also "acquire" the same problems from a spay or other types of surgery. This is the consequence of the effects from the surgery obstructing nerves that regulate the gut. These normally show up post-op. Markings to look for on a possible megacolon rabbit
Spots
Eye markings
Broken spine marking
Broken nose butterfly
Tend to all help identify and En/En gene mc bunny
- Clint Dinkums; OP for Megacolon Bunnies on Facebook
---
Breed's that can get two En genes and possibly megacolon:         "The dominant English white spotting gene, En, gets its name from the English Spot breed. The same gene is found in the Checkered Giant, Blanc De Hotot, Lop, Rex, Satin, and Rhinelander breeds and their varieties. " - Rabbit Production By Steven D. Lukefahr, Peter Robert Cheeke, Nephi M. Patton, 2013, Page 209, Web. Albino rabbits that are homozygous for the 'English Spot' gene (have the En/En genes.)
---
Recent responce from the House Rabbit Society on MC:
        squidpop posted a question on rabbitsonline.net [June 4th, 2014] about Megacolon and also emailed the HRS. (S)he got a responce from Dana Krempels, Ph.D., Senior Lecturer, Director of Undergraduate Studies, University of Miami Department of Biology and Houserabbit Adoption Rescue and Education Rabbit Rescue director. Below is her responce:         "Not all "charlies" have the congenital failure of their melanocyte neuron-precursor cells to properly migrate and innervate the gut. It's a polygenic condition, and also possibly influenced by in utero environment. In short, the actual developmental mechanism isn't fully understood. I would say the vast majority of "charlie" rabbits do NOT have the condition, though. It's not all that common. But it's awful when it does show up."
charlies - a rabbit with very little color marking patterns (some say 10% or less), in this case it's a rabbit that is homozygous (En/En). Some rabbits are refered to as a 'false' charlie, they look like an En/En rabbit, but are heterozygous (En/en) and will not have MC.
congenital - especially of a disease or physical abnormality present from birth
melanocyte - melanin-producing cells located in the bottom layer of the skin's epidermis, the middle layer of the eye (the uvea), the inner ear, meninges, bones, and heart. Melanin is the pigment primarily responsible for skin color
neuron - a specialized cell transmitting nerve impulses; a nerve cell
innervate - to supply (an organ or other body part) with nerves
polygenic - of, relating to, or determined by polygenes -> a gene whose individual effect on a phenotype is too small to be observed, but which can act together with others to produce observable variation
Anne Martin, the Executive Director over at House Rabbit Society in Richmond, posted (on fb's MC group on Sep 23rd, 2014) about her MC foster rabbit Marie and her special diet: "Marie's on a special diet from Dr. Sari Kanfer's protocol - she's down in San Diego, but she shared her protocol with other vets on VIN." She gets a mixture, BID ("bis in die"-Latin for twice a day) of:
Pumpkin
Soy protein powder (you can get at Trader Joes)
Critical Care
Water
"The soy protein powder completely reversed her wasting along her spine & helped her to gain all her weight back. Let me know if you want the proportions I've used." - Currently she has not posted back the proportions yet. PLEASE NOTE: Before trying anything with a MC rabbit you will need to consult a rabbit savvy vet! NOTE: In 2010 Dr. Sari Kanfer, DVM created the Exotic Animal Care Center in Pasadena, CA. You can see her interviewed here.
---
This syndrome is mostly refered to as Megacolon (MC). Other terms it has been called in the past:

Congenital Megacolon
Cowpile Syndrome (CPS)
Congenital Agangliosis
Cow Poop Syndrome
Some of the consequences & info of inheriting two En genes from Megacolon studies:
Solids (en/en)= kk, Spotted (En/en) = Kk, Charlies (En/En) = KK

"A change in breeders' attitude and breeding practices is mandatory because neither the permanent elimination of animals not "fitting" a fancy standard nor the continuous production of defective genotypes is legal."
"A significantly augmented intestine (abs. and rel.) in KK-animals, specially with reference to the gross intestine--indicating a tendency to motility disturbances and/or chronic obstipation."
"Additional findings support the conclusion, that there is a very distinct predisposition of homozygous KK animals to develop megacolon with growing age. This also has consequences for the relative organ weight of the heart and of the adrenals in this genotype."
"Significance of lower heart weights was stated in DRS-KK-animals," [Giant German Spot Breed] "probably induced by minor activities observed in this genotype."
"Gender influences varied hormonal characteristics and disease manifestations too: A dramatic fall in severely diseased does with respect to T3-concentration as well as a seemingly more inactive thyroid gland compared to bucks underline hormonal influences."
" It was found that En/En rabbits showed significantly reduced sodium absorption rates across the wall of the cecum. Consequently, the dry matter content of the ingesta was reduced at this location, whereas the content of the ashes was increased. These results indicate that a further important pathogenetic aspect of this hereditary disease is an undue liquification of ingesta in proximal parts of the large intestine."
"Thus, there are some indications that an early site of spot-gene related effects might be the small intestine. This segment of the bowel was shorter and had an increased dry matter proportion of its wall when compared with heterozygous spotted rabbits. But a decreased proportion of dry matter within the wall of the large intestine was found. The latter could be an effect of the hypothyreotic state of metabolism in En/En rabbits."
"Having the appearance does not mean they will develop issues. It's a risk factor, but not a certainty. Some rabbits are Charlies and don't ever have issues. Other rabbits are fine until they hit a major stressor (usually) and suddenly they have digestive issues. Once symptoms appear, there is no known way to revert to "normal" again." - Joanna Campbell of the Minnesota Companion Rabbit Society (MCRS), founder and president; quote from When Your Rabbit Needs Special Care: Traditional and Alternative Healing Methods, Lucille C. Moore, Kathy Smith - P. 97, Web. "In several rabbit breeds a spotting pattern is caused by the incompletely dominant "English Spot" - gene (En) which has recently found by this research group to be associated with a inherited predisposition for a malady from Megacolon-Syndrome..." - World Rabbit Science 1995, 3(1), p. 19-26, Wieberneit D., Wegner W. "Sadly, the condition is congenital, and there really is no cure. The best you can hope to do is to provide palliative care", relieving pain or alleviating a problem without dealing with the underlying cause, "and diet that will not exacerbate the condition. But some individuals seem to have it worse than others, are more prone to intestinal (not stomach) blockagest because of it, and at some point when they develop a very serious conditionk, it sometimes cannot be reversed." - Dana Krempels, Ph.D.- 3/5/2006, Web Post With "normal" English Spot kits (and some other breeds), the Chariles (25% of the litter with partial markings) will have the En/En color 'spotting' gene. This is the incompletely dominant "English Spot" gene [En]. Getting two of these genes is linked with the inherited predisposition for Megacolon syndrome. "The disorder is believed to be caused by a misdevelopment or malfunction of the colon and/or cecum." - Kathy Smith, Rabbit Health in the 21st Century: A Guide for Bunny Parents - P. 46, Web. Buy the EBook here. Not all charlies will be affected by Megacolon, they just have a "predisposition" for it. There is a wide range on how the syndrome could affect a rabbit.
Marked English Spot bred with Marked English Spot will have:
Charile - 25% of the litter with partial markings (Nose, Ears & Eye rings) [This is the one with the En/En genes]
Sport/Self- 25% of the litter with a solid color [Has en/en genes]
Marked/Broken - 50% have "all" the markings [Has En/en genes]
The En and en genes are the English spotting genes (aka English spotting coat color locus or Dominant white spotting locus). The rabbit only needs to inherit one En gene, from its mother or father (En/en or En/En), to have spots in its coat because it's the dominant gene. If the rabbit inherits two en genes then it will be a solid color with no white. The dominant gene is the trait that you can 'see'. The phenotype is all the 'observable' genes that the rabbit inherits. The genotype is all the dominant and recessive genes that the rabbit carries. Rabbits that inherit two En genes can possibly have a predisposition for Megacolon.
---
---
Punnett_square
Parent #1
Parent #2
Kits
Charlies (En/En)
Broken (En/en)
Solid (en/en)
Charlie
Charlie
100%
0%
0%
Broken
Charlie
50%
50%
0%
Broken
Broken
25%
50%
25%
Solid
Broken
0%
50%
50%
Solid
Charlie
0%
100%
0%
Solid
Solid
0%
0%
100%
---
---
[Overview | English Spot Breed | En/en Genes | MC/CPS Background | Care | Reference & Research | Poop | What is Megacolon?]